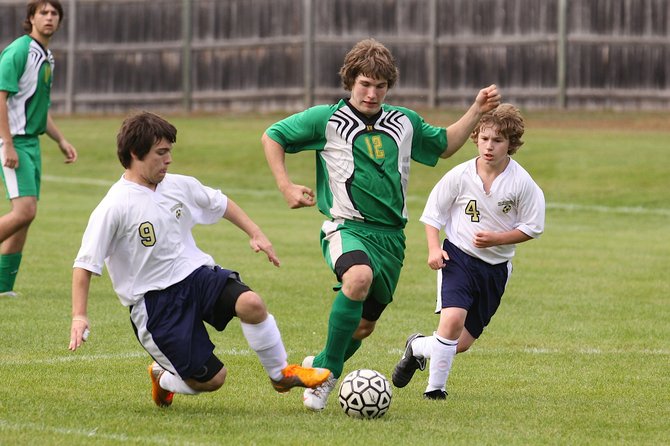 BOLTON LANDING — The public high schools of Warrensburg and Bolton have merged soccer programs — and the joint venture was praised this week by coaches and administrators of both schools.
The Varsity girls and Varsity boys soccer teams representing the two schools began practice Aug. 15, and the new arrangement allows Warrensburg athletes to play soccer on the Varsity level for the first time in two years. Warrensburg High School's Varsity soccer was dropped in 2012 due to an inadequate number of players.
Also, the merger offers the opportunity for Warrensburg girls to compete on an all-female squad instead of on the Warrensburg boys team as they had at times over the past decade.
The new joint boys' and girls' teams have full rosters — a feat which has been difficult to achieve in prior years for both schools. The merged squads now have a heightened ability to effectively compete, the school administrators said.
"Both school districts have diminishing enrollment, and we wanted to continue the opportunity for our kids to play soccer," said John Goralski, Warrensburg Central's Superintendent of Schools. "This merger accomplished that."
As of this week, the combined team had no nickname, mascot or logo. On the first scrimmage played, the combined teams played with Bolton's shirts. New blue-and-green jerseys have been ordered for the team, with the blue representing Warrensburg and the green for Bolton, Goralski said.
"The color combination reminds me of the Seattle Seahawks," Goralski said.
Bolton Central Superintendent Michael Graney said that the joint venture means his soccer teams won't have to draft 9th graders who may not be ready for Varsity competition — as has been necessary some years to field teams.
"So far, the merged team is off to a great start," he said.
"The interaction between school districts been great — We expect to work together well and keep it that way."
(Continued on Next Page)
Prev Next
Vote on this Story by clicking on the Icon