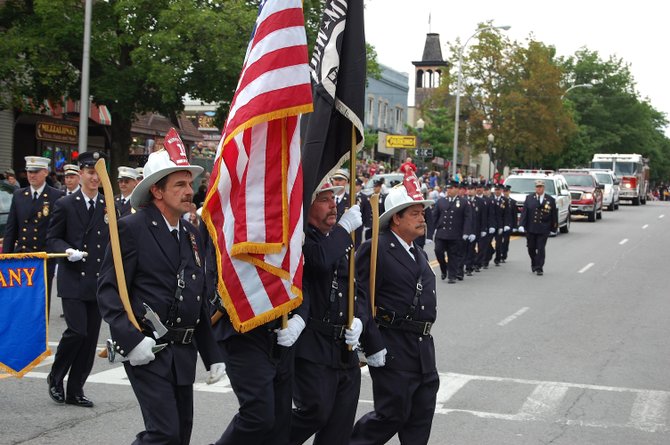 QUEENSBURY — Featuring a flourish of pomp and pageantry, the Hudson Valley Volunteer Firemen's Association convention and parade return to the town of Queensbury this week.
Thousands of volunteer firefighters from throughout eastern New York are expected to participate in the four-day convention, based at the West Glens Falls Fire Station No. 1 on Luzerne Road at Veterans Road.
The focal point of the weekend activities is the hours-long full-dress parade beginning at 1 p.m. Saturday June 21, as well as a Mardi Gras parade the prior evening at 7 p.m. The parades annually draw many thousands of spectators. A carnival is to be held Wednesday June 18 through Saturday June 21 in conjunction with the convention and parades.
Saturday's full-dress parade features at least 112 marching units, including firefighters in uniforms — some quite formal, others elaborate. The procession also features dozens of acclaimed marching bands as well as antique fire equipment.
Bill VanNess, Third Assistant Chief of West Glens Falls Fire Co., said the parade will be almost four hours long.
"We extend a warm welcome to all the dedicated volunteer firefighters from eastern New York State as well as area citizens," he said. VanNess serves on the Queensbury Town Board.
The Mardi Gras Parade is a more informal and festive affair. This annual procession has a new theme: "Traditions run deep," reflecting the fact that this year's convention is the firefighters association's 125th annual convention, HVVFA President Joseph Mellan said. A resident of Glen Spey NY, Mellan is the deputy fire coordinator for Sullivan County.
The HVVFA has about 500 member fire companies, representing as many as 40,000 volunteer firefighters in the 16 counties that border the Hudson River — stretching from the border of New York City north through Essex County, according to George Hill, the association's financial secretary.
(Continued on Next Page)
Prev Next
Vote on this Story by clicking on the Icon