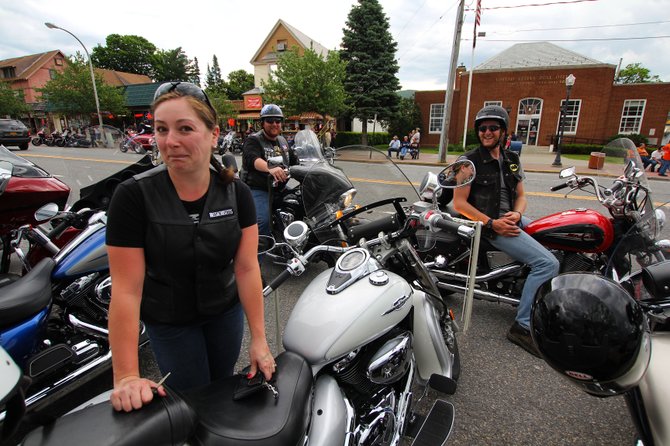 LAKE GEORGE — Gazing at several of the hundreds of motorcycles passing by on Canada St. June 5, Ernie Moreira of Woonsocket R.I. brushed some pollen off his decked-out touring motorcycle — as his wife Sandy opened up one of its baggage compartments to grab a jacket.
On the inside of the trunk lid was an array of pins the couple had collected over years of participating various motorcycle rallies — in Sturgis South Dakota, Laconia New Hampshire, Palm Beach Fla., and as far away as Freeport in the Bahamas.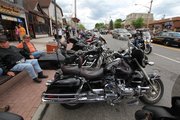 "We love it here at Americade," Sandy said as she closed the trunk lid, noting that the week-long rally in Lake George was among their favorites. The two had driven their fifth-wheel camper from Woonsocket to Lake George with their 2013 Harley
Road Glide Ultra stowed in the camper's built-in garage.
"The scenery is absolutely beautiful, we love checking out all the other bikes, and the people-watching is fun," she said.
Ernie Moreira agreed, noting they had both enjoyed their ride in several of Americade's tours through Vermont and upstate New York.
"You meet people from all over the country," he said, adding that he appreciated Americade's trade show, TourExpo, where he had just bought chromed engine parts for his Harley.
"With so many vendors, there's so much different stuff — We come with full wallets and leave with 'em empty," Ernie said with a grin.
He glanced up the sidewalk, full of people, many of them deciding which restaurant to choose for an early supper. Others were darting in and out of shops.
"What's not to like about this?" he said.
Strolling past was Scott Sumell, a village Peace Officer, walking his beat.
"I love Americade — it's family-friendly," he said, noting that the prior night there were no bar fights, no confrontation with drunks, and he had not even issued one ticket. "Bikers come here with very good attitudes and they have a good time."
(Continued on Next Page)
Prev Next
Vote on this Story by clicking on the Icon