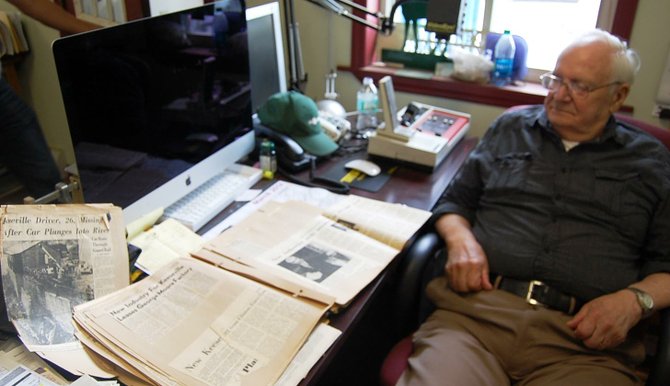 KEESEVILLE — Two details stand out about George Moore, the local recycling magnate who is entrenched in warfare with Essex County and North Hudson over his rejected bid for Frontier Town, that act as a weathervane as to how negotiations will pan out.
The first is that the businessman, who is 87 and still barks out orders from his headquarters in a modest office building in Keeseville, walks with a limp and won't undergo surgery to repair his knee.
"It wouldn't be a good investment," he said.
The second is the World War II monument he bankrolled in the center of this village just south of Plattsburgh.
The war vet recalled returning to town in 1947 after being stationed in Germany as part of the Allied occupation forces.
An impromptu monument had tipped over into the banks of the Ausable River.
"It was bad and uncaring to leave it down," he recalled.
Moore said a half-century later, he never dreamed he'd have the wherewithal to plunk a permanent monument in the center of the former milling town.
But he did to the tune of $200,000.
While the figure carved out of the slab of granite is a generic soldier, Moore said the concept was inspired by General Anthony Clement McAuliffe, the troop commander in the encircled town of Bastogne during the Battle of the Bulge.
Asked to surrender, he responded with a singular word:
"Nuts!"
OBSTACLES
The father of eight reclined in his chair as workers and visitors flowed throughout the office — delivery personnel, staffers, family members, drivers. He kept on eye on the Dow and fluctuations in the price of copper.
Above his head hung a small sign:
"Business, like life, is a series of obstacles. Your success is determined by how well you overcome the obstacles."
"I've always considered myself a working man, not a big shot," he said.
(Continued on Next Page)
Prev Next
Vote on this Story by clicking on the Icon