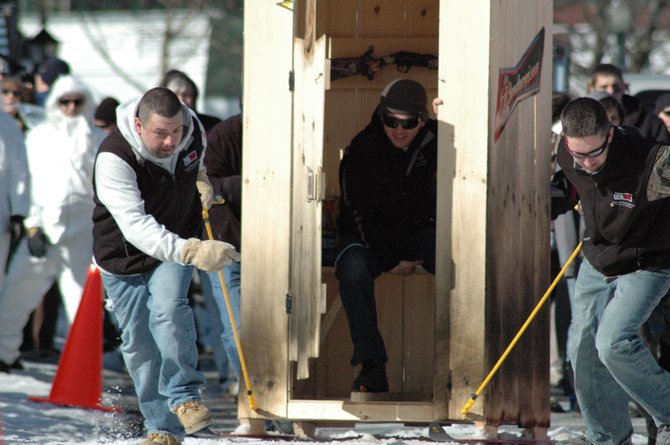 Lake George — The Lake George Winter Carnival will blanket the town with excitement during the month of February.
The events will begin on Saturday, Feb. 2 with opening ceremonies at noon on Shephard Park Beach and the Winter Carnival Parade at 4 p.m.
"We have a lot that will be going on this year in the true Adirondack theme," said Nancy Nichols, Carnival co-chairperson.

The winter weather has made some strong ice this year to hold up the zany, crazy and fun outhouse races on opening day at 12:30 p.m. as well as the Snow Cross Races that will make its Carnival debut on opening day. Nichols said the winter weather will bring an excited crowd this year.
"Last year we had very mild weather, but people come for the Winter Carnival and we're expecting a lot of people," Nichols said. "Last year was a treat, but they really want a true Winter Carnival." 
Last year, due to the warmer weather, certain events had to be moved or cancelled.
The thick ice will serve as a sturdy platform for the North East Snow X series Carnival Cup race that will debut on Feb. 9 and 10. The races will be like the X Games for snowmobiles. Race will begin off West Brook Road at the former Gaslight Village site. Registration will begin at 9 a.m.
The infamous outhouse races attracted a large following at last year's festivities with the attraction drawing the cameras from the Discovery Channel. Cameras were following the story of a local man creating the faux-outhouse creations to be pulled across the ice. Nichols said this year will be no different, with many people flocking to the ice to see what outdoor concoctions people will race this year. Those interested in participating in the outhouse run can register at Duffy's Tavern or by calling 668-5323.
(Continued on Next Page)
Prev Next
Vote on this Story by clicking on the Icon