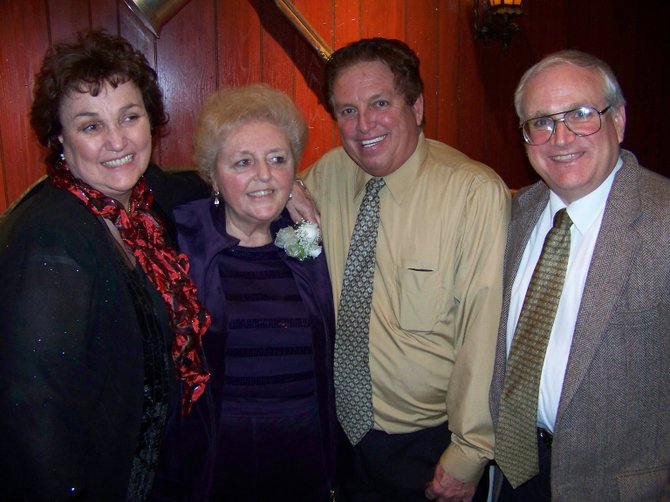 LAKE GEORGE — As dozens of revelers partied Friday Feb. 25 at Fort William Henry Resort during the Lake George Winter Carnival Gala dinner-dance, Joan Grishkot joined several friends to reminisce about festivals of years past.
The event was dedicated to Joan and her late husband Walter Grishkot for their years of dedicated work organizing and publicizing the Winter Carnival as well as other events and attractions in Warren County.
Joan Grishkot joined long-time carnival organizers Hal Halliday and Nancy Nichols and area writer-reporter Maury Thompson, author of a biography of her husband, to share memories. Walt Grishkot died in May 2011 at the age of 85.
Accompanied by a lot of laughs, the four recalled Walter's many publicity stunts and staged events to promote the Lake George Winter Carnival — or Grishkot's signature event, the Adirondack Balloon Festival.
Halliday recounted how Grishkot arranged for two Army tanks to roll down Beach Road in a mock race during one early Lake George Winter Carnival.
"They were only crawling at one-half miles per hour, but we got national news coverage out of it," he said.
Joan Grishkot recalled how her husband teamed up with Glens Falls clothing store owner Jerry Solomon — later to become the area's U.S. Congressional representative — to stage a fashion show. The conclusion, Nichols said with a hearty laugh, featured a suave model in a full-length mink coat suddenly exposing herself to the audience, showing off a risque gold lame bathing suit and a lot of flesh.
Hearing the tale, Halliday rolled his eyes.
"Walter was always on the edge," he said, recalling how Grishkot, for a balloon festival stunt, had the world's largest hibachi grill built to boost publicity.
"You never knew what Walt was coming up with next," Halliday said.
Thompson, who was guest speaker at the Gala, talked about how in 1992 Grishkot organized a presidential raft race between candidates on Lake George, and held a tribute to U.S. soldiers named "Operation Thank You" — a ticke-tape parade down Canada Street that featured the winner of a General Norman Schwarzkopf look-alike contest. Thompson also mentioned Grishkot's quirkier ideas — including staging a world's longest golf-ball drive on the surface of Lake George that was listed in the 1974 edition of Ripley's Believe It or Not.
(Continued on Next Page)
Prev Next
Vote on this Story by clicking on the Icon