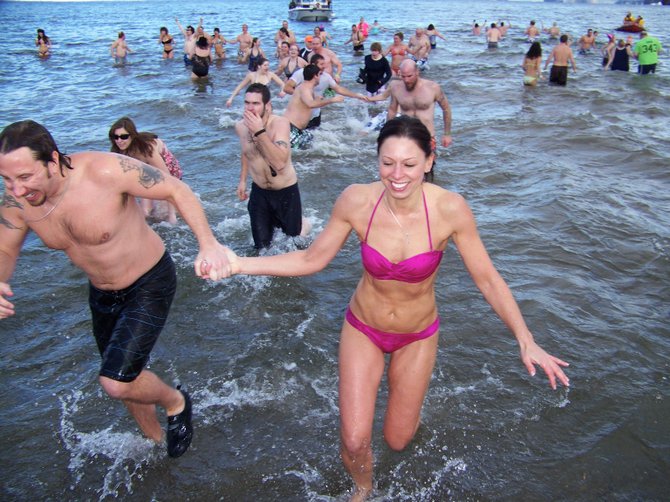 LAKE GEORGE — Braving bitter cold and gusty wind, about 1,200 people in swimming suits and many in bizarre costumes charged into the waters of Lake George Tuesday Jan. 1 in a time-honored New Year's Day ritual.
One of the revelers, Navy veteran Buck McTee of Florida, said plunging into Lake George in 23-degree temperatures with a frigid wind blowing was a matter of bravado, fun, and boosting one's longevity.
McTee stood on the beach wearing shorts and a small Spiderman cape, unaware that the 23-degree wind froze droplets of water on his getup.
"Those who go in the water under these conditions either die or add 10 years to their life," he quipped. "Besides, my relatives bought me enough whiskey to convince me to do this."
Nearby were McTee's nieces, shaking pink pom poms and voicing cheers. From Schaghticoke, they were clad only in summer shorts and U-neck T-shirts, with purple boas draped over their necks.
Anne VanVorst, one of the two teens, said the polar swim was a way to temporarily forget about friends who were injured in car crashes — and the other tragic incidents they've witnessed recently on television.
"With everything going on in the world, we want to take a break and have fun," VanVorst said.
Later, Tush Nikollaj, founder and CEO of LogicalNet of Schenectady, said he sought to surpass a scene from the 2012 New Year's Day plunge. Last year, he dove into the waters wearing an Armani wool business suit and Italian leather shoes. This year — with the temperature far colder — he wore not only the suit and shoes, but a top hat to surpass last year's feat.
That's not all, mind you.
Nikollaj was accompanied by a friend, Lisa Krizmani who wore a Versace cocktail dress, plenty of gold jewelry, and strap high heels. She also held a festive bouquet when the two of them dove into the frigid lake.
(Continued on Next Page)
Prev Next
Vote on this Story by clicking on the Icon