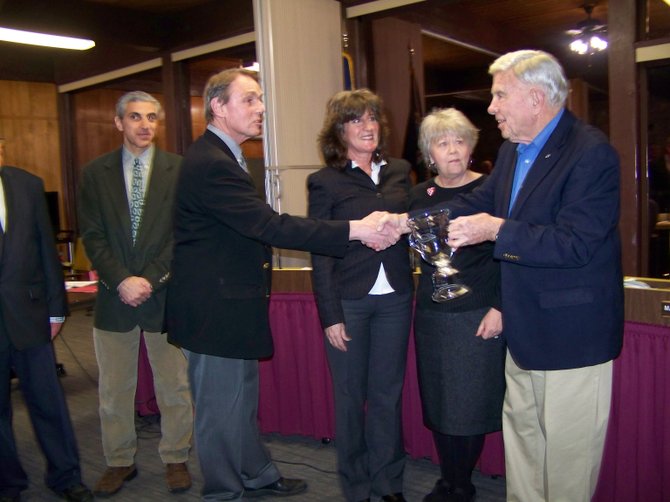 LAKE GEORGE — In a formal recitation at the monthly town meeting, Lake George Town Board member Marisa Muratori read off the accomplishments and affiliations, over 50 years, of community pillar Dennis "Denny" Galloway.
In the audience, Galloway interjected a remark when Muratori paused in her speech accompanying her presentation of the 2013 Lake George Community Stewardship Award.
"I'm getting tired listening to all this," Galloway said in jest, evoking laughter from the crowd who were present to witness the event. However, the gathered firefighters, Rotarians and citizens who packed the hall weren't tired of hearing about Galloway's work through the years to boost the community and help his fellow citizens.
Muratori noted that through 60 years or more, Galloway gave freely of his time and talents for others.
Galloway served for decades on the Lake George Fire Department — since joining in 1948 — and as a town board member for 12 years, primarily in the 1970s.
But his major accomplishments may have been through his work coordinating dozens of projects through the Lake George Rotary Club, for which he has been an officer and active member for a total of 60 years.
As a Rotarian, he spearheaded the development of the Lake George Welcome Corner, with its arrangement of lighted flagpoles, signs and stone-terraced gardens. Since its construction, he's been lovingly maintaining it.
Also in conjunction with Rotary, he reached out to a woman marooned by Tropical Storm Irene, which turned English Brook into a raging river and washed away a primitive bridge that bore her driveway. After her home was nearly swept away by the furious storm, Galloway launched a project to build a heavy-duty bridge, with railing and lighting, to allow her access to her home. He and several Rotarians and friends worked on the project, and Rotary sources said he paid for a portion of it out of his own pocket.
(Continued on Next Page)
Prev Next
Vote on this Story by clicking on the Icon