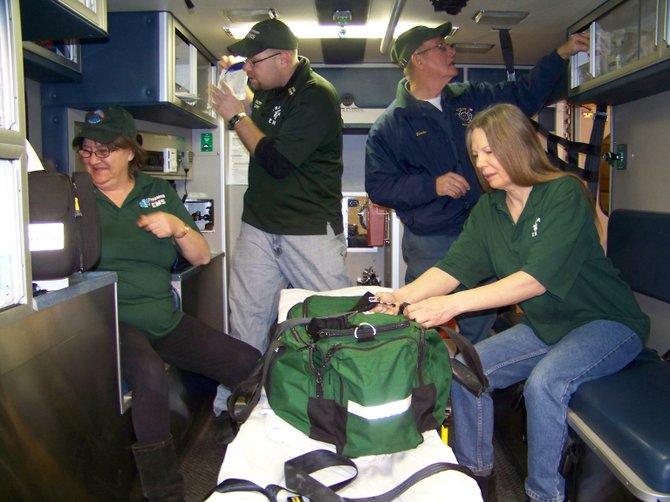 THURMAN — Regardless of an announcement Jan. 29 that the ambulance squad was on the verge of ceasing operation, volunteers of the Thurman Emergency Medical Services have continued to man the agency's station, ready to respond to calls for assistance, according to the squad captain and other Thurman EMTs.
Since the announcement of pending shutdown by the squad president, Thurman EMS has responded to two fire scenes, acting EMS squad captain Josh Hayes said Tuesday Feb. 5.
While the volunteer EMS personnel continues to provide ambulance services coverage, the squad is hosting a public meeting at 10 a.m. Saturday Feb. 9 to exchange ideas with local citizens about how to shore up the independent squad's finances and keep it operating.
Acting EMS squad captain Josh Hayes said that although the practice of paying employees to be on duty had been discontinued, volunteer EMTs and drivers were now either on duty at the station or on call for quick response.
"We are now operating as a volunteer agency with a backup contingency from neighboring squads," he said. "There is no delay to patient care — we are still dedicated to providing the best possible ambulance service to our community."
Hayes said Thurman squad has established automatic mutual aid with neighboring squads from Warrensburg, Stony Creek and Johnsburg, and this provides appropriate emergency services coverage.
"Warrensburg particularly is doing a great job providing backup," he said.
In recent weeks, officials from the Thurman and Warrensburg squads have been discussing the possibility of the Warrensburg squad acquiring the assets of Thurman EMS and perhaps operating a satellite operation out of their squad building on High St. near Athol.
The Thurman squad's financial troubles erupted in January when the Thurman Town Board withdrew its annual operating subsidy for the independent squad, citing their own financial stresses, and taxpayer resistance to taxes being raised as much as 20 percent to accommodate the squad's needs.
(Continued on Next Page)
Prev Next
Vote on this Story by clicking on the Icon