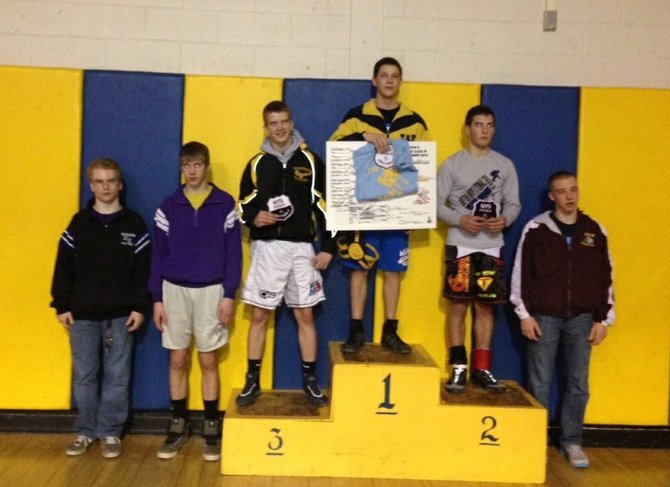 WARRENSBURG — Warrensburg High School wrestler Lane Oehler's spectacular come-from-behind victory and a strong showing by his teammates powered the Burghers to a third place showing among 13 schools in the Division II Class 3 Wrestling Tournament Saturday Feb. 2.
"Lane Oehler's win was stunning, but it also was a great day overall — every kid on our team scored points," Warrensburg coach Mark Trapasso said. "We wrestled well —placing third out of 13 schools is outstanding."
To earn the small-school regional championship title at 132 pounds, Oehler showed his determination under stress. The sophomore fought his way back from critical situations in both the semi-final and the final match.
In the earlier matchup, Oehler beat Austin Lown of Duanesburg after Lown had him on his back for a minute and a half, but Oehler put all his energy into resisting the fall, then went on to win 10-3, Trapasso said.
"Oehler just refused to get pinned," he said, noting that the young athlete summoned up considerable energy in the comeback effort.
In the finals, Oehler pulled off another dramatic comeback.
In the last period of the matchup, he was losing 7-0 to number-one seed Sam DeLarge of Albany Academy, when Oehler executed a reverse and put DeLarge on his back for the fall at 3:05.
"Lane reversed, locked up a cradle, pinned him, and the whole place went nuts," Trapasso said, noting that DeLarge had beaten Oehler earlier in the year. "The cradle is deadly."
Trapasso said Oehler proved he has a bright future in wrestling.
"This is a big win for a young kid," he said. "This should set the tone for him over the next couple of years."
Trapasso said Oehler is a formidable, determined competitor.
"Lane is miserable, bony and tough," the coach said. "Even his grandfather says he's gnarly."
(Continued on Next Page)
Prev Next
Vote on this Story by clicking on the Icon