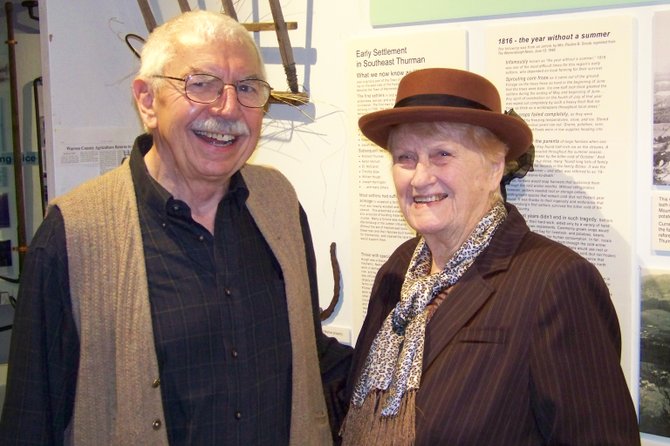 WARRENSBURG — With the colossal annual World's Largest Garage Sale approaching, two of its founders took some time this week to reflect on how the sale got started 32 years ago.
The huge sale, renowned across the northeastern U.S. for attracting crowds of up to 80,000 people, officially starts Saturday Sept. 29 — but thousands will be here a day earlier browsing through wares.
The massive event grew out of a local Chamber of Commerce committee formed to devise a way to boost local commerce, Steve Parisi recalled this week. Thirty-three years ago, Parisi and Jane LeCount, until recently a real estate broker, and Gene Magee of Thurman and Merlin Hathaway — founder of Daggett Lake Campgrounds, shared their strategies at a meeting held at Hathaway's home.
"The idea was to figure out how to get people to stop in Warrensburg on Columbus Day weekend rather than driving right through," Parisi said, noting suggestions like a kayak race were shared. "I thought, what do Warrensburg residents really do best, and the thought came to me — a community garage sale — Warrensburg residents don't ski or kayak — but they love garage sales."
In 1980, the debut edition was called the "First Annual Street Sale and Flea Market."
In that first year, about 50 vendors were situated in one location, downtown in the Warrensburg Health Center parking lot.
By the second year, Jim Kinneally, a regional outdoors writer and television personality, suggested the "World's Largest Garage Sale" moniker to boost the sale's notoriety. Kinneally was a friend of Warren County tourism chief and promoter Doris Herwig, Parisi recalled.
Kinneally's scheme apparently worked.
In the first year, about 1,000 people attended, to the delight of the committee. But in only two years, the crowd grew exponentially to 20,000 or 30,000, LeCount said.
"It snowballed, the sale REALLY snowballed," she said. LeCount and Parisi continued to manage the sale in those early years.
(Continued on Next Page)
Prev Next
Vote on this Story by clicking on the Icon