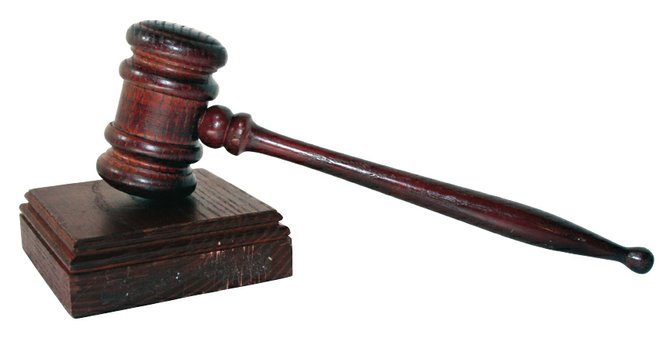 Aug. 22 — Judge Mindy Fisk
• In a plea bargain, Clifford S. Johnson, III, 39, of Main St., Warrensburg, pled Guilty to a charge of second-degree Harassment. A charge of Trespass was dismissed. Police said that on June 24, at 1:20 p.m. he continued to walk across a woman's lawn after having been told to leave the property. He was ordered to pay a fine and surcharge totaling $200. A six-month order of protection was issued.
• A charge of injuring plants on state land against Robin L. Galusha, 54, of Main St. Warrensburg was dismissed. The charge had been based on a visit June 10 to the Hudson River campsites.
• Joshua J. Warren, 24, of Plattsburgh was convicted of second-degree Criminal Impersonation based on a June 3 incident. Police said that at 12:30 a.m. that day, Warren provided a false name and birthdate during a traffic stop for a suspected equipment violation. Police said he avoided giving his real name due to a possible active warrant stemming from a former possession charge which Warren thought might have been issued by the Glens Falls Police Dept. Warren received a Conditional Discharge.
Aug. 29 — Judge Bryan Winslow
• In a plea bargain, Patrick T. Russo, 61, of Horicon Ave. in Warrensburg, pled Guilty to Petit Larceny in settlement of several Felony charges. He was granted a one-year Conditional Discharge. He had been charged with first-degree Falsifying Business Records and Grand Larceny, both felonies, for receiving $9,589 in unemployment benefits between July 20, 2009 and May 9, 2010. Both of these charges were dismissed in the plea deal. Police said he claimed he was unemployed at that time, while he was actually employed at the Georgian Resort. Court sources said he paid full restitution of the unemployment proceeds.
• Cory M. Cleavland, 31, of Trout Lake Road, Diamond Point, was arraigned on a Felony charge of second-degree Assault, based on an Aug. 13 incident at about 10 p.m. on River St. Police said he stomped on the left leg of a woman and broke a bone in doing so. He is also charged with the Misdemeanor of Endangering the Welfare of a Child, because police said Cleavland had earlier pushed the woman to the ground while she held a child in her arms, and Cleavland attempted to pull the child from the mother's arms many times during the assault. Cleavland is also charged with the Misdemeanor of Criminal Mischief for snapping the woman's cell phone in half during the confrontation. According to the woman's statement, the two were discussing how he had punched her in the face five years earlier, and hadn't since taken responsibility for his actions. The statement continued that she began to record his admission on her cell phone, he swore at her, then flipped over a table, threw a chair at her, grabbed the cell phone and snapped it in half, throwing it outside the home.
(Continued on Next Page)
Prev Next
Vote on this Story by clicking on the Icon