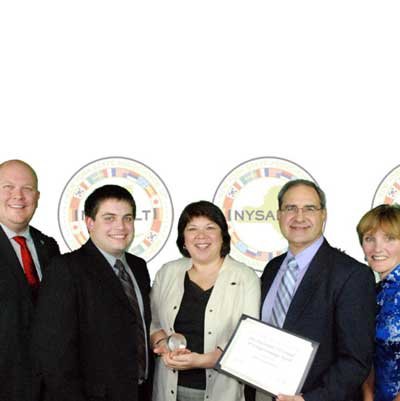 Elizabethtown — The prestigious Senator Paul Simon NYS Friend of Foreign Language Award was given this year to Dan and Gayle Alexander along with Brian Gay of Denton Publications for their work with Kidsville News of Northern New York.
The Senator Paul Simon NYS Friend of Foreign Language Award is given to a person or organization that is not a teacher of a foreign language, but has nonetheless championed the cause of furthering the teaching the foreign languages. This award, formerly known as the NSYAFLT Friend of Foreign Language Award, was dedicated to one of the group's greatest supporters, the late Senator Paul Simon, in 2004.
Kidsville News of Northern New York is a monthly children's newspaper delivered to the children in grades K-5 throughout the North Country and published by Denton Publications of Elizabethtown. Since April of 2007 the children of the region have enjoyed this educational resource that teaches the love of reading with the help of Truman, an 8-year-old green dragon.
Dan Alexander, owner and publisher of Denton Publications, the parent company of Kidsville News of Northern New York, is very involved with various business organizations in the region. He became aware of the concerns of local leaders that when our "neighbors to the north" visit the region very few store clerks or service personnel knew how to speak to them in their native French. In cooperation with Clinton Community College, David Graham and Ken Hughes, Kidsville News Publisher Gayle Alexander put together a plan to introduce the French language to the children of the region. Brian Gay provided the colorful graphics to keep the lesson light, entertaining and fun for the students.
The study of a language other than English fosters an appreciation and understanding of other cultures, promotes a better understanding of one's own language and culture, supports learning and improves performance in other content areas, and cultivates the qualities of global citizens who are well-educated and prepared to compete professionally in an increasingly interconnected world. Research has shown that early language instruction not only facilitates the language learning process, but results in more native-like pronunciation and fluency in the second language. In addition, early language instruction has been shown to strengthen students' performance in their first language as well as in other content areas.
(Continued on Next Page)
Prev Next
Vote on this Story by clicking on the Icon