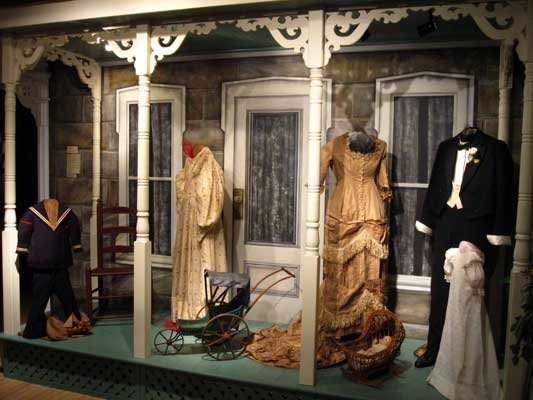 History buffs host holiday dinner
The annual Holiday Dinner of the Warrensburgh Historical Society will be held Friday, Dec. 7 at Lizzie Keays Restaurant, 89 River St.
A social with cash bar starts at 5:30 p.m., followed by dinner at 6 p.m. The meal includes soup or salad, breads, entree and dessert. Entree choices are Italian Stuffed Chicken, Grilled Bistro Steak, or Seafood Sampler Platter, all with choice of side and vegetable. The price of $27.95 includes tax and tip.
Reservations, including dinner choices, should be made by Dec. 3 by calling the restaurant at 504- 4043.
A review of the year's activities will be presented. The Society publishes a quarterly newsletter with feature articles, sponsors a croquet tournament and Picnic, as well as historic graveyard walks and programs of historic interest.

Also, the Society operates the Warrensburgh Museum of Local History for the Town of Warrensburg.
More than 240 members, including 40 local businesses, support the work of the Society.

On Saturday Dec. 1 and Sunday, Dec. 2, the museum will be open from 10 a..m. to 4 p.m. during the Christmas in Warrensburgh fest. Refreshments will be served both days. The museum will be "Dressed For the Holidays" and this will serve as the opening of the Holiday exhibit, "Our Toys."
Many local residents have loaned their toys, many vintage, for this special show, which will run through Jan. 16. For details, call 623-2928 or see the website: www.whs12885.org/museum.html.
Concert to benefit Sandy victims
A holiday concert featuring a professional Baroque recorder ensemble, set for Sunday Dec. 9, is being held to benefit Sandy Superstorm victims as well as promote traditional seasonal cheer.
Set for 2 p.m. in St. Cecilia's Catholic Church on Main St., the concert features the Adirondack Recorder Band & Voices. Folk, Shaker, Appalachian & early New England carols are on the playlist.
(Continued on Next Page)
Prev Next
Vote on this Story by clicking on the Icon
More like this story