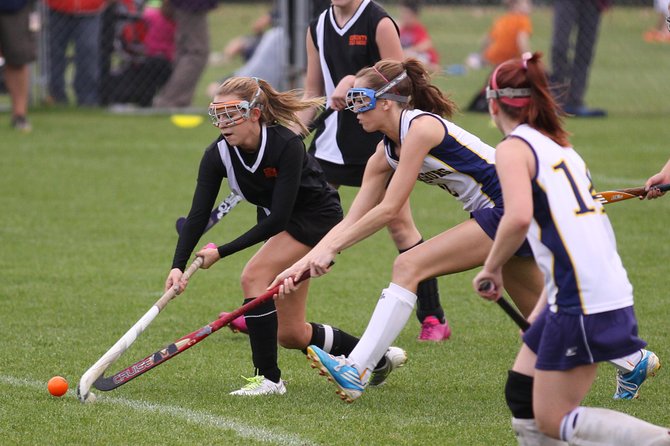 WARRENSBURG — In a remarkable turnaround effort, the Warrensburg High School girls field hockey team has enjoyed a victory-laden season — and prospects for the squad are stellar for next year.
In mid-October, the Burghers secured the Adirondack League Championship with a 6-0 record, quite a rebound from 2012's 0-6 season tally.
Mary ann Bump said this season was quite memorable, and that she and the 2013 players are now missing the time they spent together this fall in daily after-school practices.
"This was one of the top five hockey teams I've ever coached — and it's not a matter of win-loss record, but it's about people and character," she said.
In post-season play contending for the Class C Section II championship, the Burghers met up with Greenwich, the 2012 Class C Runner-Up State Champions.
The Burghers lost 3-2 in a hard-fought, competitive game that could have gone either way. Monday Nov. 12, Greenwich beat Bronxville, earning a shot at the state championship title this weekend.
Bump said that despite the loss, the Burghers' game against Greenwich demonstrated her players' talents.
"It was an outstanding game, and it showed the major growth our players have accomplished this year," she said. "It was everything that a championship game should be."
Bump continued that for the 2013 season, the sky's the limit for the WCS Field Hockey team.
Although five outstanding seniors are graduating, the team includes a deep roster of talented veteran players: 11 juniors and three sophomores, joined by a freshman.
Bump, however, may not be at the helm — which could be a deep loss to regional field hockey, as she is a virtual legend for her accomplishments spanning more than three decades.
She's is retiring in June from Warrensburg Central as a physical education instructor, which would normally mean giving up the coaching post.
(Continued on Next Page)
Prev Next
Vote on this Story by clicking on the Icon