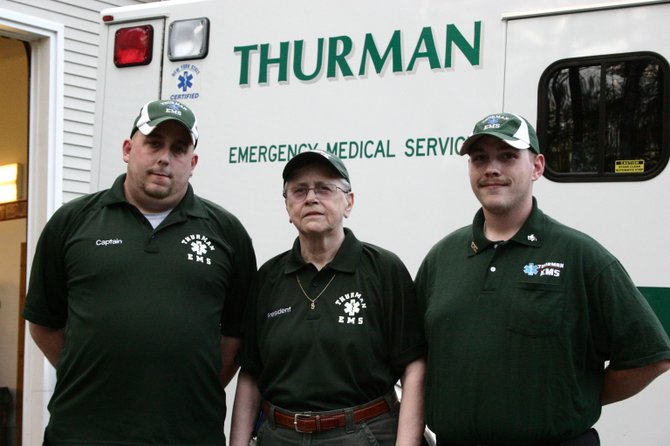 ATHOL — The Thurman Town Board has proposed to withdraw its financial support for the Thurman Emergency Medical Services, a move which agency officers said threatens the squad's existence.
Thurman's preliminary 2013 budget, calling for a $625,528 tax levy, doesn't list any money toward the independent agency's operation, as it has in past years. The budget does include, however, a final payment of $12,685 towards the squad's ambulance.
The budget, presented at the monthly Thurman town board meeting held Tuesday Nov. 13, is subject to a public hearing at 5 p.m. Friday Nov. 16.
In August, squad officers submitted a proposed EMS budget to the town, citing they needed $115,000 from the town to maintain the round-the-clock services they are now providing.
This preliminary squad budget cited $199,819 in expenses for 2013, offset by both $60,000 in projected revenue for ambulance runs and $11,065 in donations and fundraising. This budget left a $13,079 deficit that the squad would attempt to offset with grants or additional fundraising.
This request for town support was downsized as of Nov. 13, according to a letter to the board this week, to a figure of $75,000.
In the 2012 budget, the town allocated $27,315 towards the EMS agency's operations, and the prior year, the sum was $33,468.
Wood said the board, in its decision to eliminate its subsidy of the agency, was simply facing severe financial pressure, yet had to keep taxes under control, which the majority of taxpayers and voters supported.
The 2013 budget calls for a town tax levy of $625,528 — the exact amount allowed under the state's tax cap. That sum represents a 4.6 percent increase over 2012.
This tax hike complies with the state's so-called two percent tax cap law, Wood said, because the legislation allows municipalities particular amounts to pay for such expenses as pension increases and voter-approved construction projects.
(Continued on Next Page)
Prev Next
Vote on this Story by clicking on the Icon