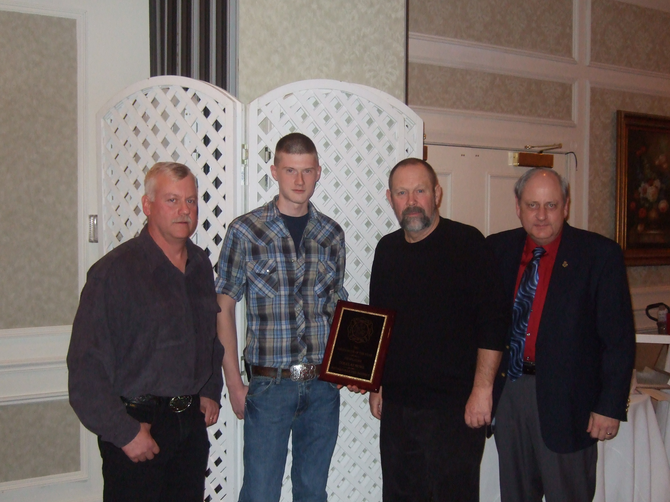 POTTERSVILLE — At a recent gathering of both local and regional emergency officials and firefighters, Douglas Howe was named 2011 Firefighter of the Year by the Pottersville Volunteer Fire Department.
Howe was given a standing ovation by the 70 people attending the annual awards banquet of the fire department, held Jan. 14.
In the award presentation, Howe was hailed for his commitment to the fire company since he joined at age 16. It was noted that he regularly manned the firehouse when others weren't available, and was faithful in attending training sessions and helping lead company drills.
It was noted that for his relatively young age, he was knowledgeable about firefighting, and even veteran firefighters sought his advice. He was also honored for setting an example of dedication for other company members.
Also, Pottersville First Assistant Chief Kevin Feldt presented gag awards for unusual accomplishments by members through 2011.
These were followed by fire company service awards. Frank Meade took first place for most training classes and drills attended, followed by Doug Howe, Izzy and Kathleen Modert, Delvin Wheeler and Jon Barney. The Pottersville firefighters participated in a total of 997 training hours in 2011.
Awarded for the most incident responses during the year was Kevin Feldt, followed by Rico Lopez, Eugene Carman, Doug Howe and Delvin Wheeler. Longevity awards were presented to Eugene Dutcher for 38 years; Gene Carman, 36 years; Frank Meade, 31 years; Kevin Ferguson, 27 years; as well as Kevin Feld and Doug Howe.
Area fire and emergency officials attending included Horicon Fire Chief Jim Hayes, Chestertown Fire Chief Jack Crossman, Riverside Fire Chief Bob Frevelle, Schroon Lake Fire Chief Rodney Secor and North Warren Emergency Squad President Kevin White. Also attending were Warren County emergency officials Ted Little, Scott Combs, Amy Drexel, and county dispatcher Blair Davies.
CAPTION: "Pville.Firefighter.Yr"
Participating in the Firefighter of the Year awards presentation recently are Pottersville Fire Department members (left to right): First Assistant Chief Kevin Feldt, Firefighter of the Year Douglas Howe, Chairman of District Commissioners Eugene Dutcher, and Fire Chief Guy Swartwout.
Vote on this Story by clicking on the Icon
More like this story