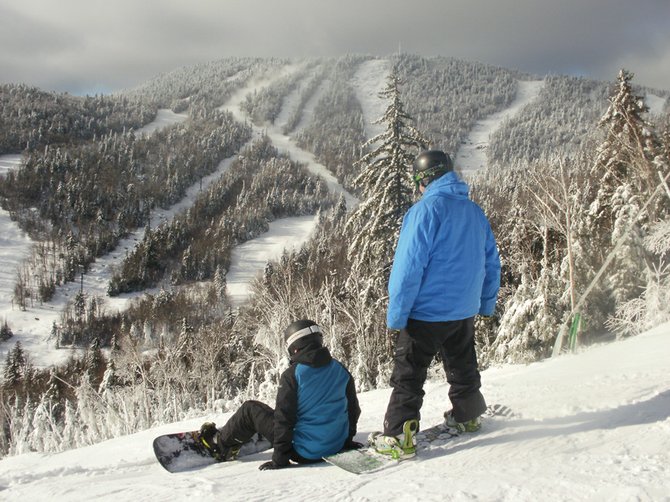 North Creek — The Gore Mountain ski center opened the Ski Bowl Park's tubing run for the season on Dec. 21 and the Village Slopes for skiing and snowboarding on Dec. 26. But not everything at Gore this past week went as planned.
Johnsburg Town Supervisor Ron Vanselow was scheduled to be the honorary guest for the official "Blessing of the Skis and Boards" Friday afternoon, Dec. 21 at Gore Mountain. Steady rain, however, dampened spirits and the event was cancelled, according to Gore Marketing Manager Emily Stanton.
Nothing got blessed.
"Although, the snow gods must have heard something," Stanton said the morning of Wednesday, Dec. 26, as Gore Mountain and the rest of the East Coast braced for the first major winter storm of the season.
The winter storm warning was in effect from 7 p.m. Wednesday, Dec. 26 through 7 a.m. Friday, Dec. 28. Meteorologists were forecasting 8-16 inches of snow in the North Creek region.
Gore has made a lot of headway this past week, opening new trails and lifts, and this fresh dumping of snow is expected to open even more terrain.
"We'll just evaluate after the snow comes through," Stanton said, adding that the snow could help open up some of the glades and connector trails.
Most of the ski season days, so far, have been warm, with some rain, but the nights have been cold enough to make snow. And Gore snowmakers have used every opportunity to cover trails with snow. The ski center was able to increase much of its open terrain this past weekend.
On Friday, Dec. 21, there were five lifts and 15 trails open — 25 percent of the terrain — with a base depth of 11-19 inches.
By Saturday, Dec. 22, there were seven lifts and 17 trails open, and by Monday, Dec. 24, there were seven lifts and 25 trails open — 40 percent of the terrain — with a base of 14-24 inches.
(Continued on Next Page)
Prev Next
Vote on this Story by clicking on the Icon