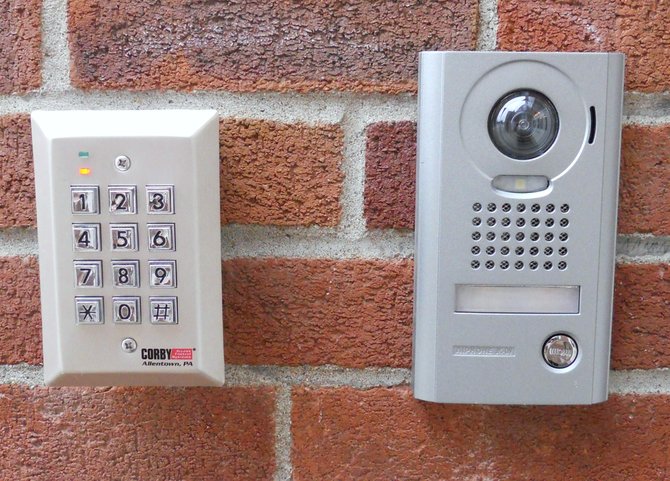 WARRENSBURG — SWhile schools around the nation re-examined their security measures this week in the wake of the horrific shooting of young children and teachers at Sandy Hook Elementary, area residents took another look at the security monitors in place in the Warrensburg School District's two schools.
Both Warrensburg Elementary and Warrensburg High School had security monitors installed this year, and school staffers have been carefully monitoring all who arrive at the schools' main doors.
Since September, the front entrance doors of the high school have been locked for the entire school day, and visitors — even parents and delivery workers — are scrutinized by one or more school staffers before granted entry.
Visitors arriving at the front door push a buzzer on a monitoring system which alerts a staff member. Visitors then explain their intent, while an office staffer or administrator examines them with a high-definition video camera that can zoom and rotate for thorough visual inspection, Superintendent of Schools Tim Lawson said Dec. 18.
After the visitor is positively identified, the door's electronic latch is opened, and the visitor is tracked or escorted to either the main office or his or her destination, Lawson said.
All other doors on the sprawling high school building are kept locked all day.
The security monitor was installed this summer to replace the greeter who was stationed in the high school entrance lobby — a personnel position that was eliminated this year due to district budget cuts.
At the elementary school, a similar video security monitor system is in place on the back door. Greeter Jim Simkins, whose position survived the budget axe, scrutinizes people who come in the front door, which remains unlocked during routine school days. The device at the elementary school includes a keypad so staff members can punch in a code to gain access.
(Continued on Next Page)
Prev Next
Vote on this Story by clicking on the Icon