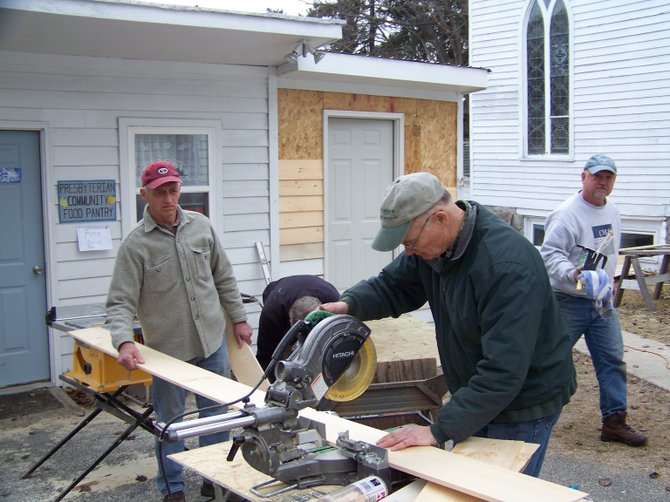 WARRENSBURG — With donations and volunteer labor, a local food pantry will now be able to help more area families in need.
For years, the small garage next to Warrensburg's First Presbyterian Church has served as a food pantry, serving families in Warrensburg, Thurman and Lake George.
With more and more families now facing hard times and seeking food, the pantry recently outgrew its modest space.
A team of volunteer workers, having responded in the past to reconstructing homes ravaged by hurricanes in in southern U.S. states, stepped forward recently to apply their skills to a fulfill a need in their own county.
This Neighbor-to-Neighbor Mission Team, a regional group of volunteers sponsored by Bay Road Presbyterian Church, built an addition to the church's food pantry. The team enclosed a former unfinished equipment shed attached to the garage, upgrading it to second room.
The addition adds about 50 percent more space to the panty, which is busier than ever, and has needed the extra room to store foodstuffs, pantry coordinator Fay Crandall of Warrensburg said.
"We've been getting more people and more donated food than we can handle," said Crandall, who has been volunteering for the pantry for 25 years.
The pantry, open Mondays, has been visited by 25 to 50 families per week, she said. Area churches, community groups, the local Grand Union supermarket and North Country Ministry have been responding to the increased need, supplying more food than ever — which has prompted the storage problem.
Pete Redfield of Warrensburg Presbyterian Church, a pantry volunteer since about 2000, heard of the need weeks ago..
He and his wife Ricci, who live in Thurman, had participated in the Neighbor-to-Neighbor team's 2006 mission trip to Pearlington Mississippi, to help the town's residents rebuild following the ravages of Hurricane Katrina.
Pete Redfield talked with Warrensburg native Doug Kenyon of Glens Falls about the pantry's expansion needs, and about 10 members of the team volunteered to take on the project.
(Continued on Next Page)
Prev Next
Vote on this Story by clicking on the Icon