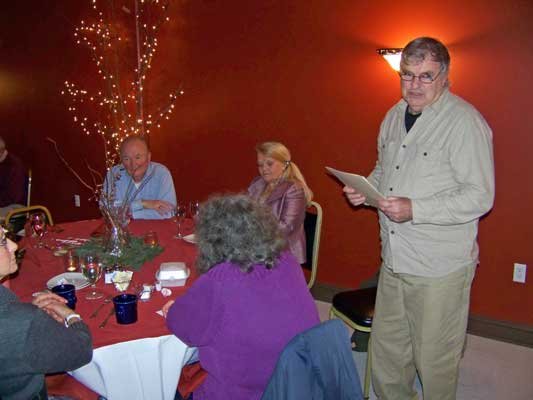 Property donated to Historical Society
Area developer and Warrensburg resident Richard Emerson has donated 2.7 acres of riverside property to the Warrensburgh Historical Society.
Paul Gilchrist, president of the group, made the announcement Friday, Dec. 7 at the Society's annual meeting and holiday dinner held at Lizzie Keays restaurant.
The 2.7 acres of property, located across the river from the Grist Mill Restaurant, was the historical site of the Burhans tannery and John Smith's sawmill and electrical generation plant, Gilchrist said.
Emerson had planned to build multi-story condominiums on the site, but the project ran into regulatory obstacles, Society officials said.
The land is assessed at over $30,000, and Society members said they were thrilled about the donation.
Gilchrist reviewed the activities and programs of the Society during 2012.
New this year was the exposition of old farm and logging machinery presented in October by Tom Davis at his property on Lamb Hill Road in Diamond Point. The demonstration of his antique machinery was educational and quite well received, Gilchrist said.
The Society has continued building a relationship with Warrensburg's schools, and the effort is lead by Mark Brown and Rosemary Maher, Gilchrist said. A year ago, John Burns' high school environmental science students presented research projects on the history of commercial, manufacturing or business sites in town This year's students are working on their projects now, and presentations will be in mid-December.
Gilchrist noted that Delbert Chambers of Thurman has curated and presented several remarkable holiday exhibits at the Warrensburgh Museum of Local History. Last year, he organized the museum's holiday exhibit "My Dolly," featuring 70 dolls loaned by local citizens. This year, Chambers received 100 contributions for the "Our Toys" exhibit. Next year, an exhibit of doll houses is planned.
Gilchrist also noted that the Society held a major planning forum at in March to develop ideas for the future of the Historical Museum and the Society, and the session was productive.
(Continued on Next Page)
Prev Next
Vote on this Story by clicking on the Icon