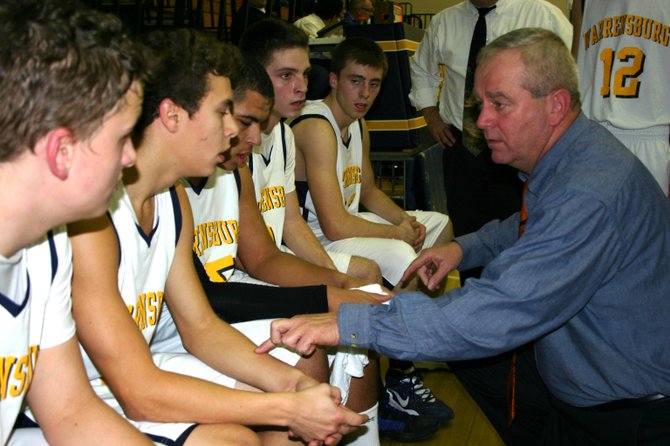 WARRENSBURG — Smiling, Kevin Geraghty scrawled some final data into a scoring book, snapped it shut and walked across the hardwoods toward the Warrensburg High School gymnasium lobby.
He had just witnessed a high-energy boys basketball game Friday Dec. 7 in which the Burghers combined a fast-moving defense and a freewheeling offense to defeat Fort Edward by a score of 77 to 55.
The athletic show Geraghty just witnessed was impressive, he said, noting it reminded him of years ago when Warrensburg was annually a top contender in the Adirondack League.
Geraghty ought to know — he's been a scorekeeper at Warrensburg basketball games for 44 years.
"Our new coach is positive with the players and they like his coaching style," Geraghty said about Bob Hummel, who's served at Rensselaer Polytechnic Institute as a basketball coach. "Bob Hummel allows them 'free will' to shoot and they're shooting well — and they enjoy playing together."
This free-will shooting, taking opportunities rather than executing plays by rote, apparently paid off against Fort Edward.
No less than 27 points of the Burghers' score was due to three-pointers — six Warrensburg player hit a total of nine three-pointers.
Forward Tyler Wilcox said after the game he and the players appreciated Hummel's flexible offense, which made playing basketball that much more fun.
"It's also about pushing the ball down the floor, and controlling the tempo — not letting the opponent set up their half-court defense," Wilcox said.
Minutes after a post-game debriefing in the locker room, Hummel offered his thoughts of this auspicious start of the 2012-2013 basketball season 2-0 in the league, a record which three days later had improved to 3-0 after a 72-42 win over Bolton.
"Our players are definitely attentive and they try hard to do what I want them to do," he said, noting they were positioning themselves to spread out the opponent's defense, muscling inside for rebounds, and meeting his challenge on offensive rebounds: sinking one rebound shot for every two missed first shots.
(Continued on Next Page)
Prev Next
Vote on this Story by clicking on the Icon