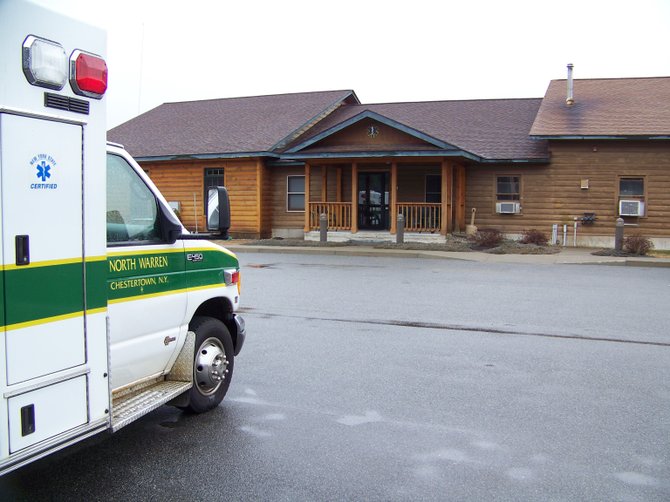 CHESTERTOWN — As of dawn Monday Dec. 3, the embattled North Warren Emergency Squad ceased operations, catching local officials off guard and leaving Empire Ambulance Service to respond to emergency medical calls in the upcounty squad's service territory.
The suspension of service occurred after North Warren squad officers quit over disagreements between volunteers and paid staffers over how the squad should be managed, local town and emergency services officials said Dec. 4.
Empire Ambulance, a for-profit enterprise, is now dispatching ambulances out of North Warren's headquarters and covering the North Warren service territory 24/7, local officials said. If more than one ambulance is summoned simultaneously, neighboring squads will be alerted through the county's mutual aid system, Warren County Emergency Services Coordinator Brian LaFlure said.
Gary Scidmore, chairman of the North Warren squad's Board of Directors, said the suspension was temporary and undertaken to allow the squad to reorganize. He referred further questions to an outside consultant, Doug Wildermuth, who is owner/operator of an emergency services staffing agency that was hired last week to provide paid emergency medical personnel and training for North Warren's squad.
The agency has traditionally provided ambulance services for the towns of Chester and Horicon. Chester's annual $60,000 contract with the squad is now pending, and Horicon pays its stipend quarterly, primarily because of the of instability and controversy surrounding the squad in recent years.
Chester Supervisor Fred Monroe said Dec. 4 that when the 2012 contract was signed, the town board insisted that paid staffers not serve on the board of directors or serve as officers, after allegations had surfaced that some of the paid personnel were making inappropriate decisions concerning their own compensation. Since then, Monroe said, he'd heard allegations that these several paid staffers were attempting to influence volunteer members to force resignations of volunteer squad board directors who had opinions different than theirs.
(Continued on Next Page)
Prev Next
Vote on this Story by clicking on the Icon