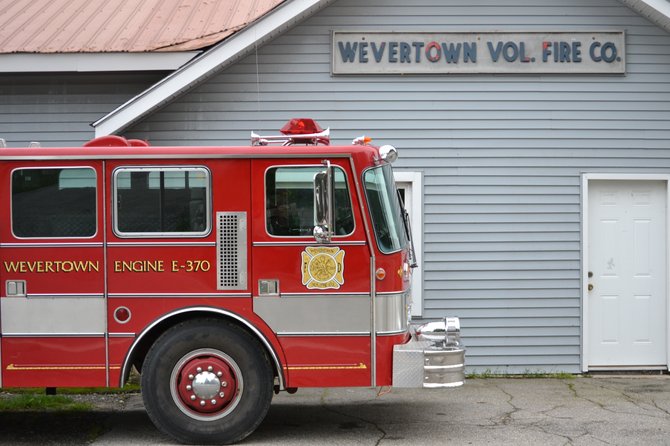 Queensbury — The currently defunct Wevertown Volunteer Fire Company will be able to sell off equipment to pay bills, according to a Nov. 19 decision by state Supreme Court Justice Robert Muller filed with the Warren County Clerk.
In the case of the Town of Johnsburg versus the Wevertown Volunteer Fire Company, Inc., Jarrett Brown (fire chief) and Jane Doe and John Doe, Muller sided with the defendants' request to modify the town's temporary restraining order. Attorney Terence Hannigan made a verbal motion before the court Oct. 18 for his clients, the Wevertown Volunteer Fire Co. Inc. and Jarrett Brown, seeking to modify the temporary restraining order of the court dated Sept. 28, 2012. It was supplemented by the letter request of Terence Hannigan dated Oct. 31 on behalf of the defendants in support of the motion.
Johnsburg Town Attorney Tony Jordan opposed the motion. Muller granted the defendants' request. The temporary restraining order is modified and released to permit the defendants to initiate and undertake the following actions:
•Pay the attorney retainer fee and allow the retainer funds to be applied toward fees;
•Consolidate its savings and checking accounts into one checking account;
•Expend funds for:
A. Hiring an appraiser of fire equipment;
B. Hiring plumbers and tradesmen necessary to "winterize" the firehouse;
C. Hiring mechanics required to "winterize" the two pieces of apparatus;
D. Hiring a real property appraiser to provide a valuation of the firehouse;
E. Payment of ongoing and customary bills such as utility and fuel oil bills;
F. Payment to NBT Bank on the debt (deficiency) owned on the GMC/Crimson.
G. Payment of property and business auto insurance for Wevertown Volunteer Fire Company Inc. property; and
•Authorization Defendants to re-list the 1986 International Tanker for sale and release that apparatus from the restraining order so that is can be sold to a buyer for fair market value is located.
(Continued on Next Page)
Prev Next
Vote on this Story by clicking on the Icon
More like this story