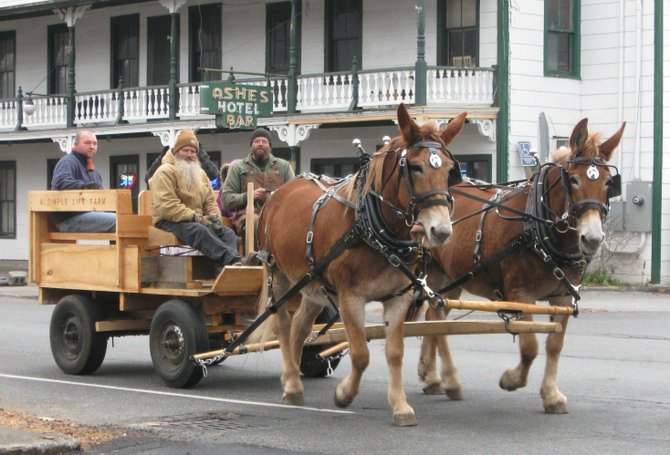 WARRENSBURG — With help from Mother Nature and a large turnout, the 24th annual Christmas in Warrensburgh celebration fulfilled its promise this past weekend.
Hundreds of people participated in this festival that embodies the holiday spirit of bygone years through its varied activities, event organizer Teresa Whalen said.
"It was a very busy, successful weekend," she said. "Our festival was very well attended, and the snow was a gift — it made everything feel like the traditional holidays."
Warrensburg's town hall, transformed into "Toyland" for Saturday, attracted a crowd of children and their parents for guided crafting sessions, Whalen said.
"Children came in waves all day," she said. "Our workshops were overflowing with kids waiting to make wooden toys, water color paintings and origami whales and sharks," she said.
Among the artisan mentors were Skye Gregson of Chestertown and Schroon Lake, who taught children how to handcraft their own whirligigs and toy tops, Whalen said.
"Skye was whittling so fast, wood chips were flying everywhere — it was incredible," Whalen said. "I've never seen so many children — the whole town hall was filled."
Outside the town hall, Santa held court and heard Christmas wishes. He brought along two young reindeer, which captivated children.
Through town, churches held bazaars, luncheons, holiday gift and decoration sales and a Breakfast with Santa. The First Presbyterian Church held their annual Friendship Tea, accompanying their ever-popular Cookie Walk.
"I heard from the churches and businesses that they had a lot of traffic," Whalen said. "Everyone was busy."
Saturday's tree lighting ceremony was well attended, with new Holy Cross Episcopal pastor Tom Pettigrew blessing the town Christmas tree. Julie Gallup of Gallup Farms served up her homemade cookies for the gathering.
Sunday's activities also drew plenty of people, Whalen said. The Chamber of Commerce's annual craft fair, which Whalen launched decades ago, drew a large number of skilled artisans, many of them from Warrensburg.
(Continued on Next Page)
Prev Next
Vote on this Story by clicking on the Icon