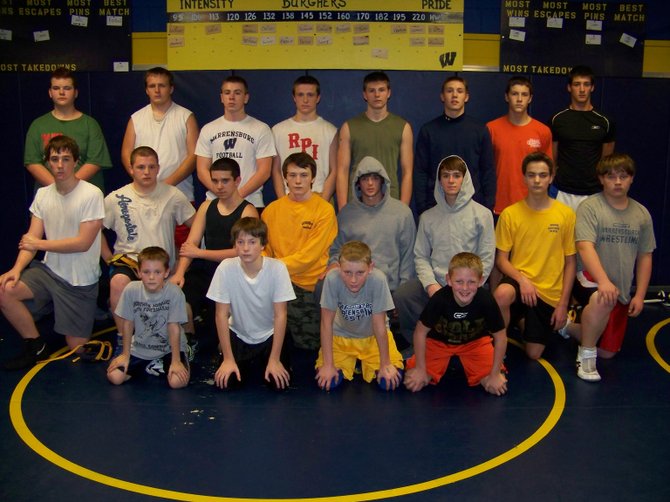 WARRENSBURG — With an infusion of tough football players joining veteran athletes, the Warrensburg High School wrestling team will likely be experiencing a victorious year in 2012-13.
There's a robust roster of experienced wrestlers returning, joined by football players who are experienced in smash-up physical contact. These recruits may lack the finesse that some of the experienced wrestlers have developed, but they know how to push other guys around.WCS wrestling coach Mark Trapasso used the word "tough" a dozen times or more this week when describing his team, which last year amassed a 20-8 record.
All but two of the wrestlers are underclassmen, but they make up the age difference with guts and brawn.
Here's the lineup:
In the 99- and 106-pound weight class are Freshman Aiden LaPoint and 7th grader Dan Monthony, who will be competing for the 99-pound spot — with the runner-up in wrestle-offs taking on the 106-pound slot.
At 113 pounds, is 10th grader Austin West, a veteran who had a great year in 2011-12, and is certain to repeat, Trapasso said.
"I expect Austin to win a lot of matches," Trapasso said. "He looks fantastic."
At 120 pounds is freshman Wesley Bessaw, a rookie on Varsity, but has experience on the Modified squad, and shows promise.
At 126 pounds are two experienced WCS wrestlers: Denver Berry and Nick Nedelcu, both Juniors. Nedelcu has unorthodox moves, but knows how to use his muscle to defeat opponents, Trapasso said.
"Nick's in fantastic shape, works hard, and finds his own way to win a lot of matches," the coach said.
Junior Denver Berry is an experienced wrestler who's also familiar to area sports fans. Trapasso said he's a solid athlete who will be a formidable competitor in either the 126-pound or 132-pound weight class.
"Denver's a tough, hard-nosed kid," the coach said. "He's strong and powerful — and he wins a lot."
(Continued on Next Page)
Prev Next
Vote on this Story by clicking on the Icon