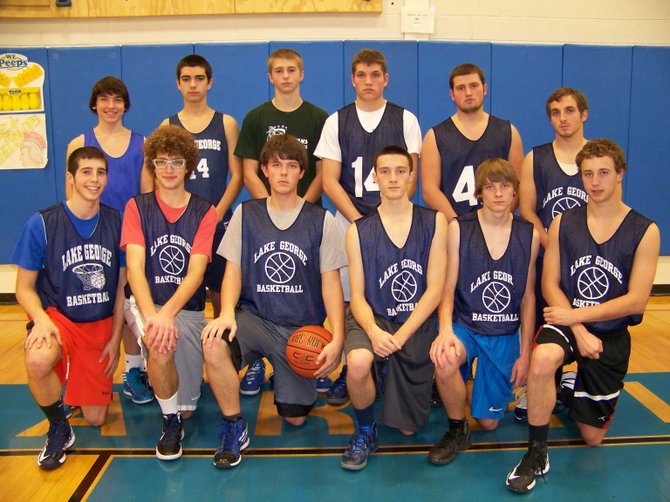 LAKE GEORGE — Last year, the Lake George Boys Basketball team faced a formidable challenge. They had lost six talented seniors, the core of a "dream team" that included three stellar athletes who could dunk the ball as well as dominate both ends of the court. The players who remained on the 2011-12 team, however, were undeterred. They pledged to work hard, develop skills and chemistry, and strive for achievement and success.
The players did just that, and racked up a remarkable 17-3 record — and claimed the Adirondack League Western Division Championship with solid team execution rather than relying on a few star athletes.
For 2012-13, a good number of players on this team are back, and they know what it takes to work hard to achieve lofty goals.
Senior Alex Labruzzo was one of the key elements of that squad. This week he offered his thoughts on the 2012-13 season.
"Nobody on our team is selfish about the ball or shooting — we have one shared goal, to win the game," Labruzzo said.
His teammate Ethan Wincowski agreed. "it's a team concept," he said, adding that Coach Dave Jones was the key element in school's boys basketball teams' success for more than a decade. Jones has coached the varsity boys team for 14 years, during which he's guided one team — the 2004 squad — to the New York State final four, plus his teams have won two Section II championships, five Adirondack League championships, eight divisional championships, and far more than 200 total wins.
"Coach knows what he's doing," Wincowski said. Labruzzo echoed the point.
"He watches the films, identifies mistakes and knows what we need to work on," he said. "And he's very positive."
Jones said he's enthusiastic about the year's prospects.
"We brought back a good group of guys, and we have players coming up from our nearly undefeated JV team," he said, addinging that the season may have a slow start. Sophomore Joel Wincowski, Ethan's brother and a leading scorer last year, was injured in soccer, and he will be sidelined until Christmas, he added.
(Continued on Next Page)
Prev Next
Vote on this Story by clicking on the Icon