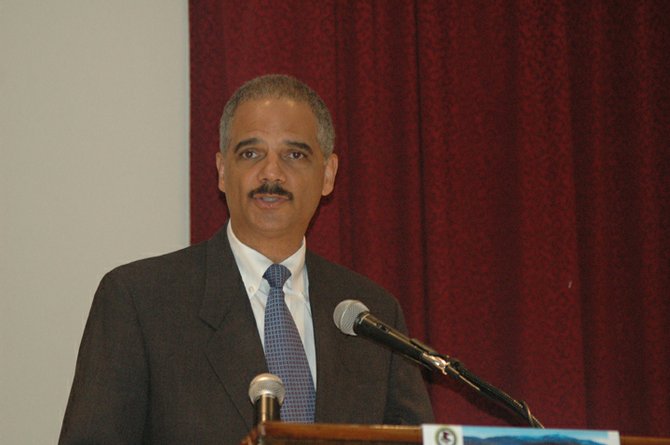 Lake Placid — Eric Holder spoke to those assembled at the Lake Placid Crowne Plaza about border security Sept. 14, during a noontime keynote address.
Holder spoke about improving relations between the governments of the United States and Canada when it came to, "achieving our shared public safety objectives," according to Holder.
"You've discussed successful investigations, prosecutions, extraditions, and crime-prevention strategies," Holder said. "You've shared best practices as well as innovative ideas for combating terrorism, cybercrime, drug trafficking, financial fraud schemes, and organized criminal networks. And, above all, you've forged and reinforced essential partnerships across areas of expertise, disciplines, jurisdictions, tribal communities, and international borders."
Holder said that he hoped that the conference would lead to better cooperation between the two countries.
Video
Clinton, Essex and Franklin Co. District Attorneys attend Northern Border Summit in Lake Placid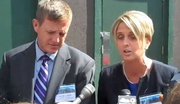 "I have no doubt that the conversations you've begun here in Lake Placid will lead to greater collaboration in the days ahead, and will enable all of us – Americans and Canadians, alike – to be more effective in fulfilling the responsibilities that we share: protecting the safety of our fellow citizens," Holder said. "We can all be encouraged that the bond between the United States and Canada is stronger than ever."

Holder said that he hoped that conferences like the one in Lake Placid would help bring new ideas and tactics to protecting the boarder.
"Today, a decade since the Cross Border Crime Forum was created, our nations have reached a crucial point for updating our goals, for modernizing our strategies, and for identifying the most effective, and most economically viable, ways to achieve our shared public safety objectives; to breakdown remaining barriers to cooperation; and to honor our common values," Holder said, adding that this work needed to be done without infringing on the civil liberties of others.

"In protecting the security of our borders and the safety of our people, we will not abandon the values that have always defined the United States and aligned with great nations like Canada," he said. "And we will never jeopardize every American's – and every Canadian's – guaranteed right to privacy. The protection of our civil liberties is of critical importance – to me, to the Justice Department, and to this administration."
(Continued on Next Page)
Prev Next
Vote on this Story by clicking on the Icon