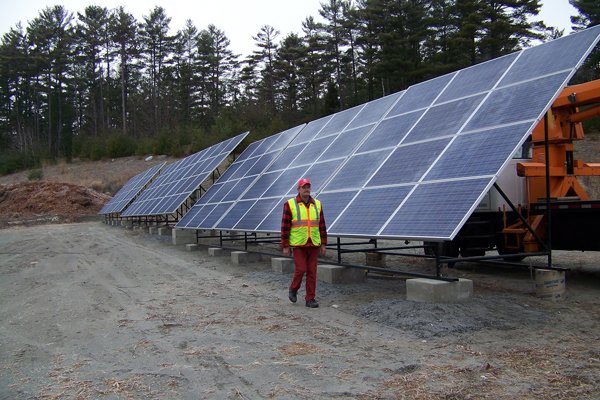 Chestertown — While people and organizations are merely talking about "going green,' the Town of Chester is really doing something about it — in a big way.
Within weeks, the government's municipal buildings and other facilities across town will be substantially energized by solar power.
The town is the first municipality in the Adirondacks to convert to solar power, town officials and their consulting engineers said this week.
The town has signed a contract with Edge Design & Consulting to install and maintain vast arrays of solar panels at the town Municipal Center, the town highway garage, transfer station and recycling center complex, as well as Dynamite Hill warming hut, and the Chester-Horicon Health Center.
The solar arrays at each of these sites will provide most if not all of the power used by the respective facilities. The arrays are 150 feet long and about 16 feet in depth.
The equipment, representing tens of thousands of dollars, will not cost the local taxpayers anything — in fact, the taxpayers are guaranteed savings on their electricity bills.
While Edge Design is paying for the equipment and installation, the town is guaranteed savings of 10 to 25 percent on the electricity usage for the life of the contract, or 10 years, Chester Supervisor Fred Monroe said.
"It seems like a good deal," Monroe said. "We could probably save more over the long term if we hired engineers, designed and installed the panels and equipment ourselves, but we'd be undertaking financial risks," he said. "It makes sense to me to sign this lease agreement and have guaranteed savings for the taxpayers — and it may up a lower cost overall anyway."
As a private entity, the consulting group can receive subsidies and tax breaks for the equipment investment not available to the town, Monroe added.
(Continued on Next Page)
Prev Next
Vote on this Story by clicking on the Icon